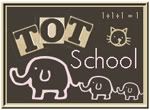 This week our focus was on music. The boys had a blast especially Munchky who loves everything having to do with music. The boys had fun
playing
on their instruments - thanks to the home's previous owners who left a bunch behind!
This week we played "I Love a Parade" CD and Munchky had fun
marching
around the pole in our tot room.
Munchky already knew a lot of instrument names from Baby Einstein's "Meet the Orchestra" DVD. But thanks to these
instrument cards
from
Counting Coconuts
, he has been introduced to new instruments. For the past couple of weeks I have been
whining
commenting that Munchky won't sort. Well last week as I was getting the unit ready, he took a stack of instrument cards I had just laminated and went into the living room. About 10 minutes later, I went in, he asked me a couple of questions about the instruments, I then noticed that he SORTED the cards according to what section of the orchestra they were in. (the Baby Einstein DVD introduces the instruments by section). I tried to get him to sort again during tot school.....but no.
Here he is playing a
matching
game with them
.T-Rex also enjoyed looking at them and trying to say their names. He is really trying to speak now and is so much fun hearing (and deciphering) his new words.
I made these
rhythm counting cards
to introduce Munchky to the idea of counting beats. (note: I did not drill him on these) We would pull a card out from a bag and then count the beats on the card. We did this by
clapping
,
stomping
our feet,
slapping
our knees and
jumping
..
I made these music pre-writing sheets to practice lines and circles and introduce him to the concept that notes have names.
We also worked on these
piano size sequencing cards
.
The Mad Stacker strikes again. This week T-Rex found new things to
stack
.
M do-a-dot page
from COAH, T-Rex collected the caps and stacked them. He eventually got 5 caps on (he kept bending over to get a cap off the floor and the ones stacked would fall off). It was quite comical but he never gave up!
After he was done stacking, T-Rex found another use for the caps. He went over` to the pound a ball and dropped the caps in the holes and watched them roll down (so much easier than hammering those balls). Pretty soon his brother joined in.
One of Munchky's favorite activities -
painting
!
With this music craft, we talked about the different shapes and how they are used to make music and how were they are placed represents different sounds. And of course he had fun
gluing
!
We did a transfer activity with glass pebbles and glass jars. This was a big hit with both boys, they played with it for about 15-30 minutes each day. We had a small, medium and large jar and I demonstrated how each held different amounts of pebbles and how each had a different sound. Of course they just loved
dropping
,
pouring
and sometimes
throwing
the pebbles and loved the
clanking
sounds.
T-Rex loved this colander activity that I saw on a few other moms' blogs (sorry I didn't write down which).
Another big hit in our house is
banging on
playing the piano. Munchky insists that music must be on the piano and open, then he turns the pages as he is playing.
The boys really loved listening to music this week during tot school and especially enjoyed the Peter and the Wolf book and CD.
To see what other Moms are doing visit
1+1+1=1
.